Now The Printmakers

Opening on Friday September 21 | 5.30 – 8.00
Exhibition open September 22 - 30 EXCEPT Monday 24 | 10.30 - 4.30

at the Workshop | 19A Clarence Street | Swansea | SA1 6BS

Original prints as part of "Nawr Yr Arwr / Now The Hero"
inspired by World War 1 artists and Frank Brangwyn and Käthe Kollwitz with work by artist members alongside three featured Welsh printmakers:


---
Rose Davies
Monotypes and etchings from "The Warrior", a series from her 10 year working relationship with Captain David Williams, a serving soldier and life model, who also features in Nawr yr Arwr.

Rose Davies | The Warrior Turns | Monotype
---
Andrew Baldwin
Etchings and mezzotints inspired by the World War 1 battlefield
Andrew Baldwin | Flanders | Mezzotint
---
John Abell
Woodcuts from "Diary of a Dead Officer" published by Old Stile Press


As well as having individual prints on show, copies of this amazing book will also be on view and available to purchase at the Workshop

The Diary of a Dead Officer by Arthur Graeme West

with linocuts by John Abell handprinted at The Old Stile Press

The powerful writing both as poet and diarist moved a pacifist painter and printmaker, John Abell, in the 21st century to create expressive images of a kind which are not easy to see because both these men responded to the violence and horror of the battlefields of 1914-1918. Where is reason and humanity in such a world.
Over the past four years there have been all sorts of events to mark the horrors of war in Europe between 1914 and 1918. It was to have been the war to end all wars and writers, painters, sculptors expressed this wish in many ways. The Diary of a Dead Officer was first published after the end of the war to demonstrate how a young man, Arthur Graeme West, had moved from support for a just war as a solution to the problems between nations and a total rejection of fighting. This book is surely the sort of reminder we must have when there are any thoughts of organised aggression between nations. There can be no justification but only a yet stronger need for discussion and diplomacy in pursuit of a peaceful means of sharing this planet.
Frances & Nicolas McDowall
Frank Brangwyn and Käthe Kollwitz were accomplished multidisciplinary artists, both lived and worked through World War 1, and both excelled in the medium of printmaking. Drawing inspiration from the wealth of print media in which they worked, including etching, woodcut and lithography, Swansea Print Workshop members have responded to the rich visual wealth of the sumptuous Brangwyn panels and the recent Glynn Vivian Art Gallery exhibition of Käthe Kollwitz prints.
Alan Figg | Carol Lawrence | Anne Gullick | Andrea McLean | Claire Davies | Jane Jones | Menna Buss | Sally Price | Yvonne Hills
---
Rose Davies
– Now the Hero | Artist in Residence
Volcano Theatre
|
27-29 High Street | Swansea | SA1 1LG
Preview: September 22 | 6.30 – 8.30
Exhibition continues until 29 September
Opening times: Monday – Saturday 10 .00 – 5.00 | Free Event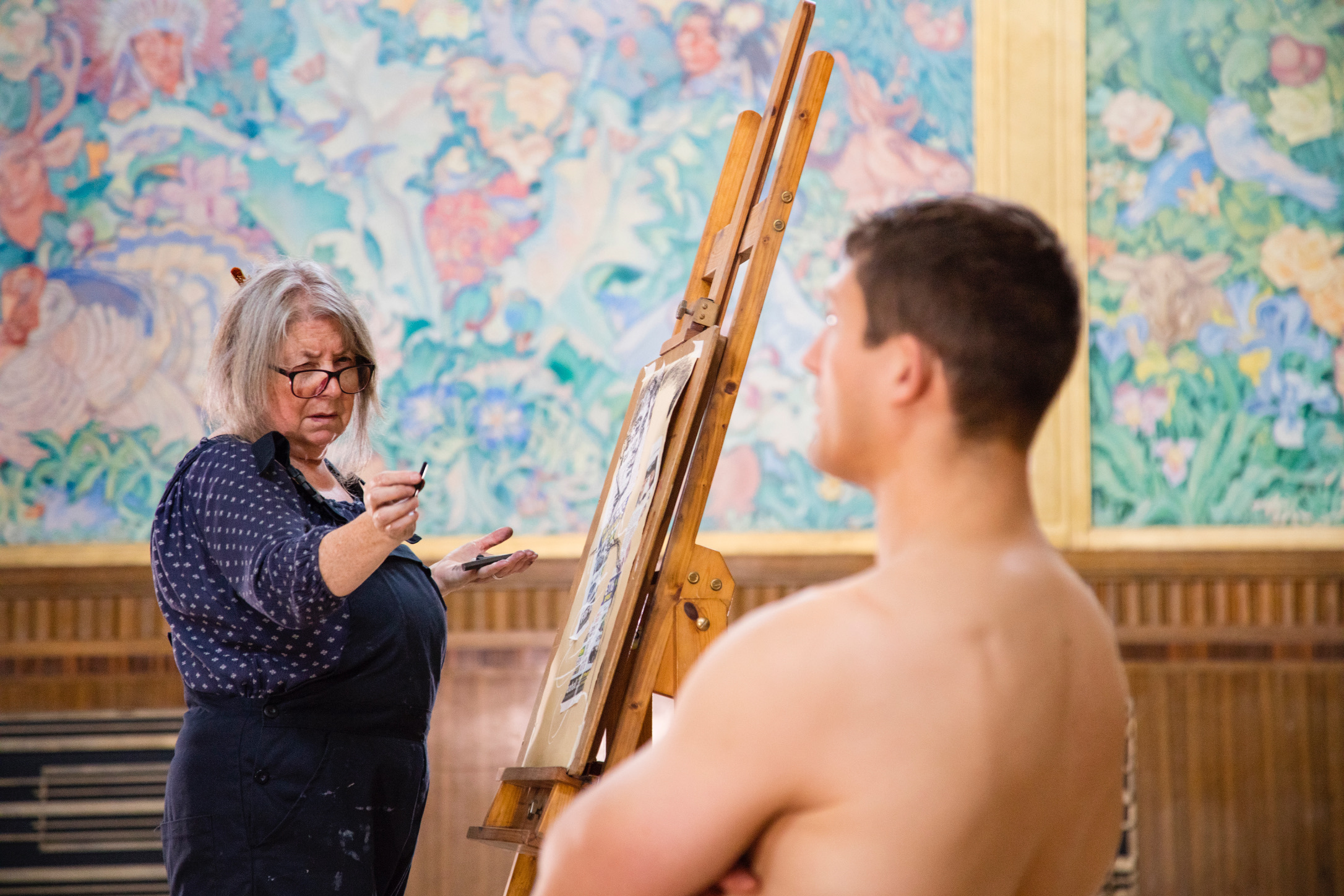 Rose Davies / Rosie Scribblah will be working on her new body of work Here Be Dragons which means dangerous or unknown territory! Commissioned by Sky Arts TV for a series in the New Year, Rose will be exploring the question, "In post – Brexit Britain, who are we?"

Rose will be using her residency at Elysium and her Open Studio at Volcano to develop a new piece of art rooted in people's experience of being British. The Open Studio will give visitors a real-time experience of how an artist works, researching, developing and producing art. Rose's initial research has already thrown up intense political opinions, divides and conflicts – ancient and modern.

Along the way in the process to making her final piece, Rose will be offering visitors to her Open Studio the chance to have their say on being British and the opportunity to do a brief vox pop interview to camera which may be included in next year's Sky Arts programme.